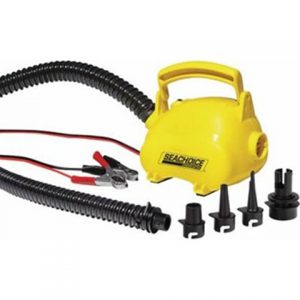 For Inflatable Boats and Toys, Towables, Air Beds, Balls and more. Inflates or deflates quickly. Comes with various valves and 10' power cord
Bravo replacement hose kit. Replaces hose for the Bravo 7, 7M and 9 foot pumps.  Includes hose connector/adapter, closing clip and 3 valve adapters.
Bravo 12V Electric Inflator, lightweight and compact high pressure piston pump
Bixler's Inflatable Foot Pump measures up to 5.8 psi and has a 5 liter air/fill capacity per stroke. The pump adapter will fit most Walker Bay, TUG, and AB Inflatables.
Bravo 2 Inflatable boat foot pumps is an all purpose pump that can be used for small boats and kayaks.
Bravo replacement hose kit. Replaces hose for the Bravo 1, 2 and 10 foot pumps.  Includes connector,  pump closing clip and 8 valve adapters. 
Inflate your boat quickly and safely with the Bravo 10 double chamber high volume foot pump with separate "top off" chamber to prevent over inflatation. Visual pressure indicator to protect against overinflation.
Fast and compact double action inflatable boat hand pump with 4 liter capacity. Up to 15 PSI. (AB Part #AB85012-0004)
Current Avon, Novurania, Apex and Walker Bay Generation C7 Threaded Valve Adapters.